During the most hectic season, Christmas, we surveyed customers that ordered through our website and the results speak for themselves. From the 103 people that responded to the survey, these are their results. A total of 78.6% of surveyed customers said it was their first time ordering from a website. A total of 69.9% said that they found that ordering from our website was either Fun or Very Fun. A total of 45.6% of surveyed customers said they found the ordering process Very Easy with 1% saying it was very difficult.
Our goal this year is to continue driving our customers to our website order so that you can all enjoy the experience or ordering online as well as faster ordering time.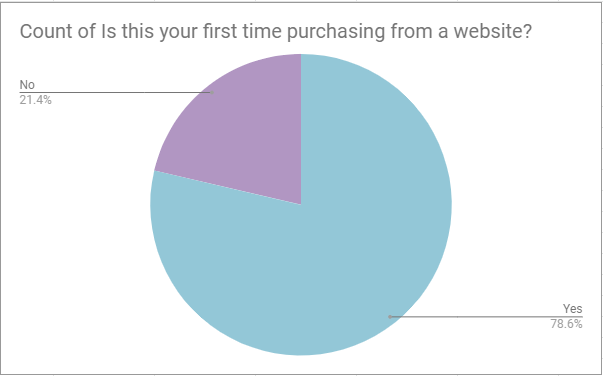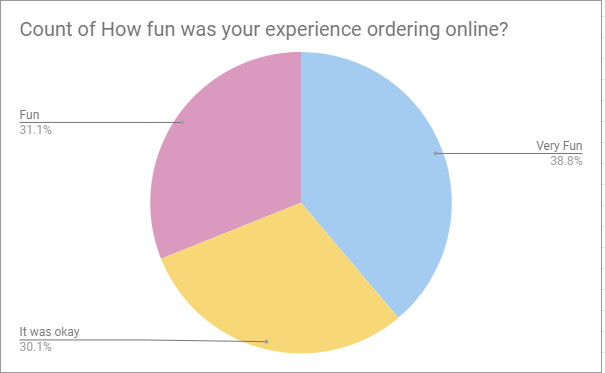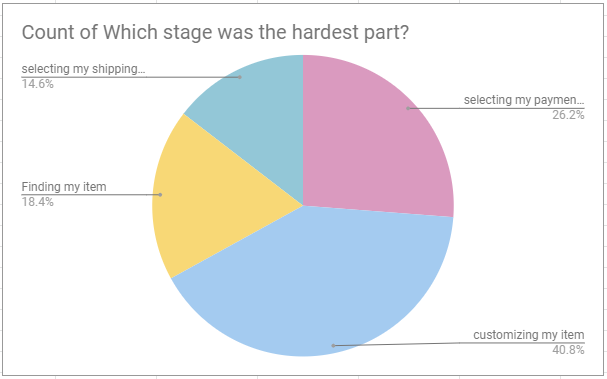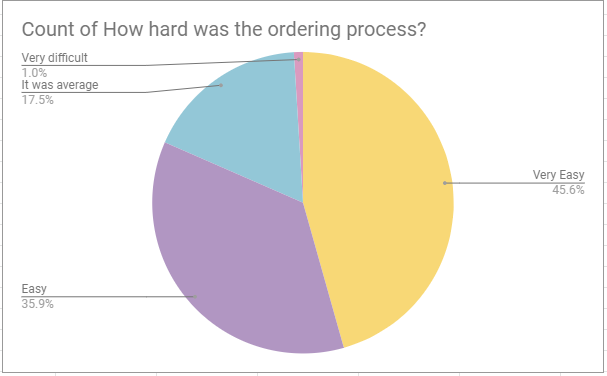 It had always been a dream for us to be able to have a website that is fully capable of creating previews for your customized products in Real Time, record your order without the need of a credit card, and give you the full online shopping experience. Today we are excited to able to do have a website that can give all those experiences. Since the order process is different on the website than what you were use to, we have set up some step by step guide for you to follow below.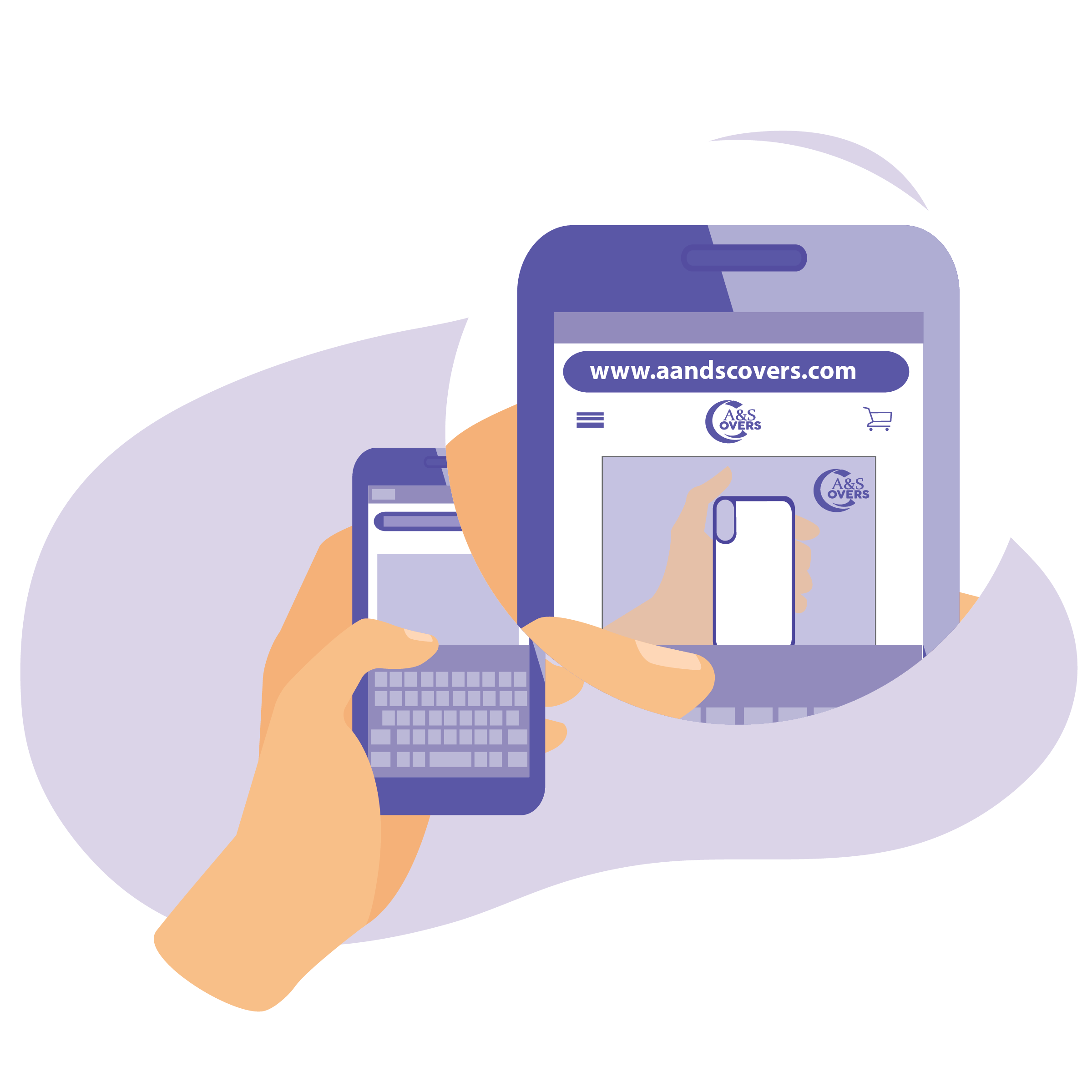 Step 1: The first thing to do when ordering a case is to visit our website. Click here to take you to the page where all our products are listed. Once at the page that lists all the items you select between Samsung or iPhone then select the model of the phone you are trying to get a case for. If you're looking for any other product, they can be found on the lower part of the same page.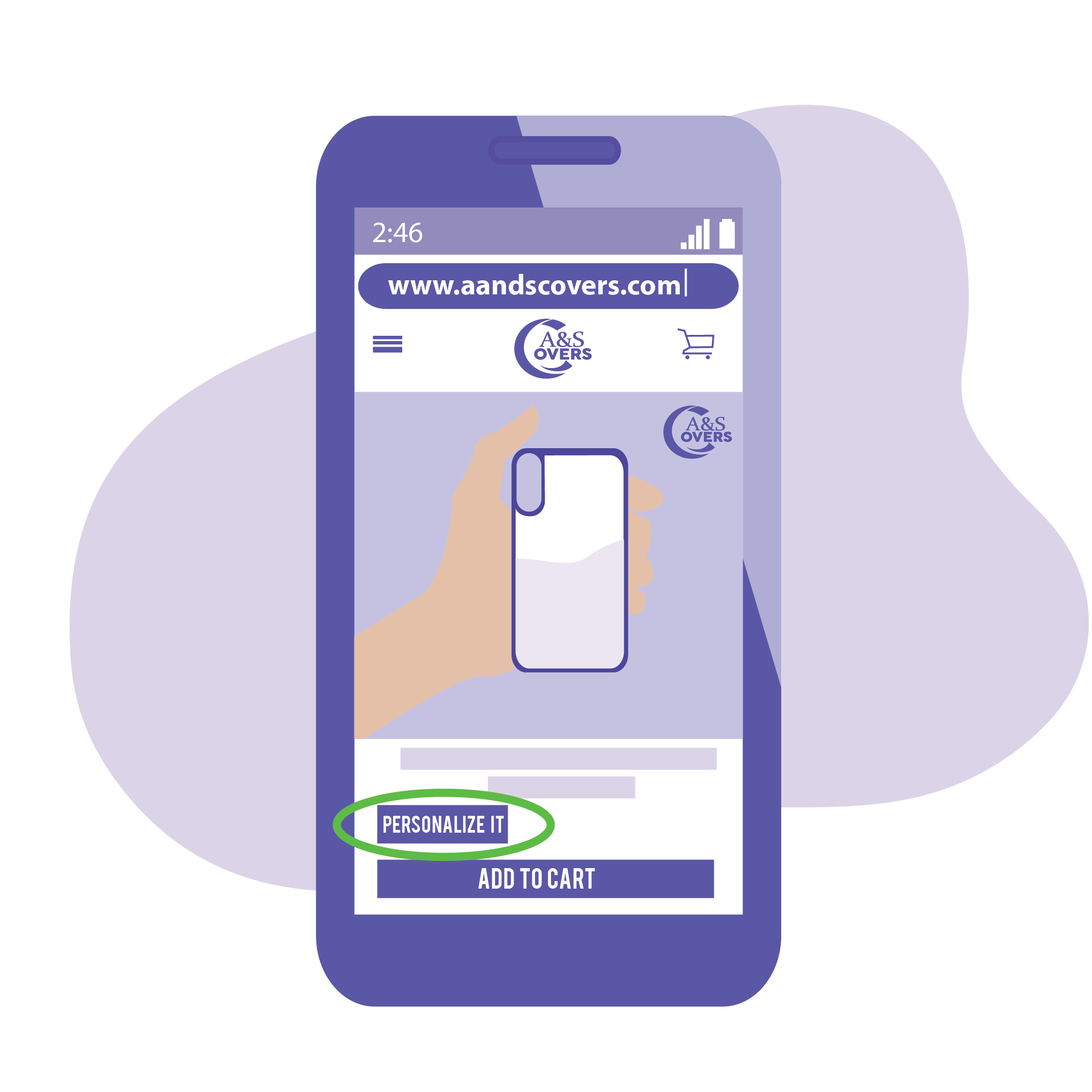 Step 2: Once you have selected the phone model you want to order, press the button labeled "Personalize it" to begin. This button will take you to a new screen. This also applies to other products.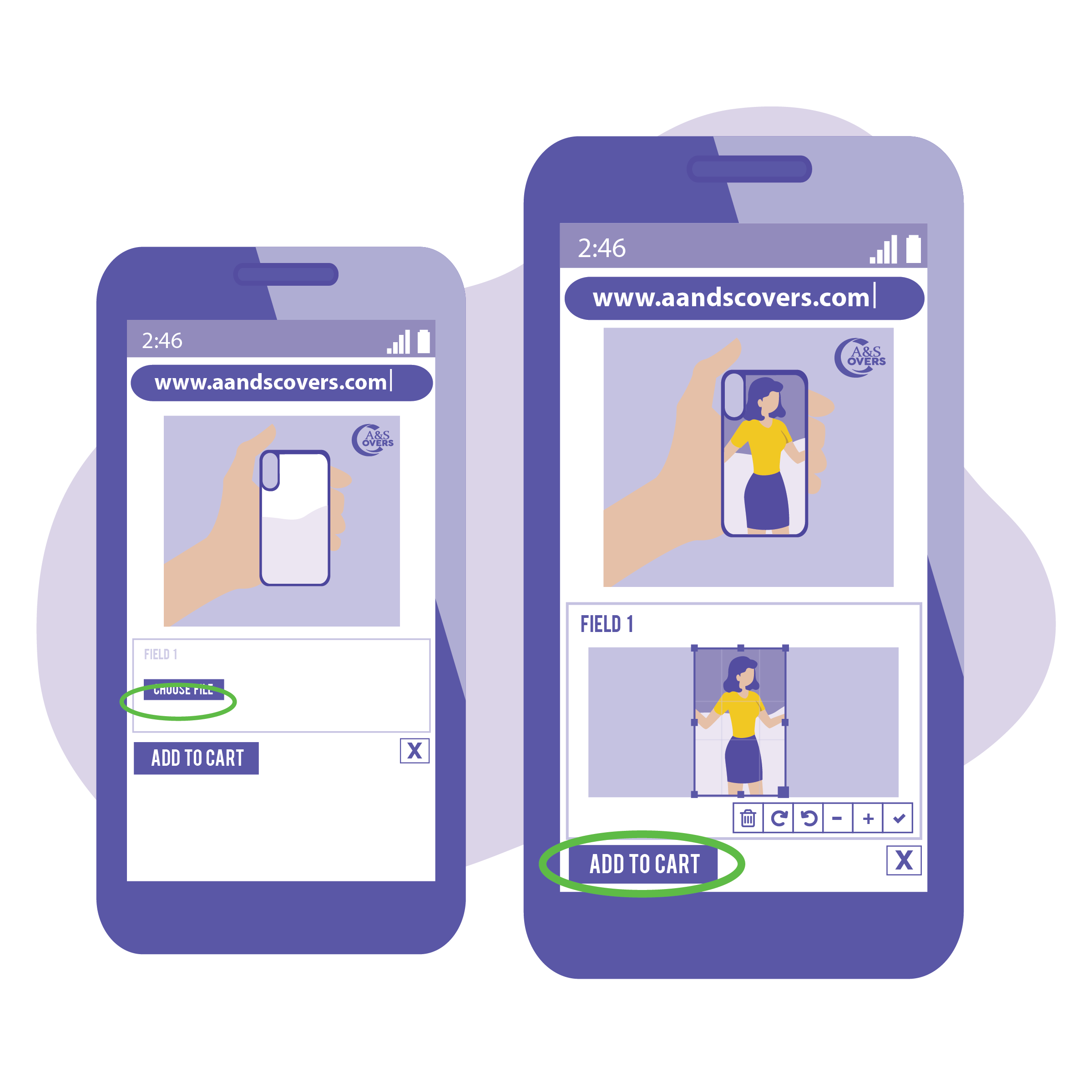 Step 3: This new screen will show the phone model you selected and allow you to upload your image unto our website when you press on the button labeled "Choose File". After pressing the button you will be given the option to choose an image from either your camera or picture files. This also applies to other products.Once your image has been upload to the website, you'll be able to adjust your image so that it fits completely on the back of the phone case. Once you've done that make sure to press on the button labeled "Add to Cart".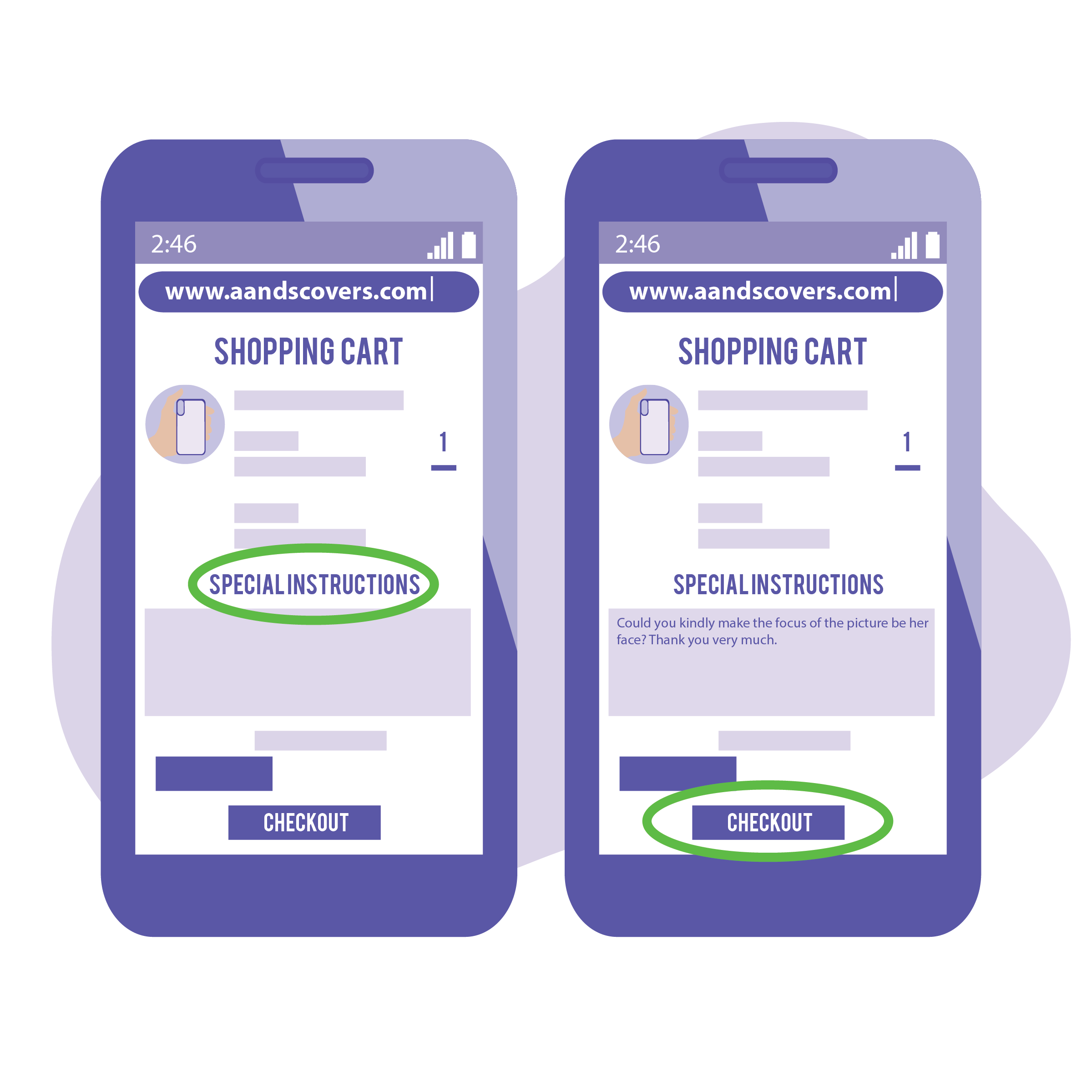 Step 4: The next screen to be displayed will be the Shopping Cart screen. This screen will allow you to remove any items that were added by mistake and allows you to see your total. On this screen you can also leave us any specific instructions you might have and need to communicate with us. Once you're satisfied with the items your going to purchase, press the button labeled "Checkout" to move to the next screen.
Step 5: Once at the checkout screen you will see a screen similar to the images above. This screen is where we will collect personal information from you that we will use to contact you when confirming or sending your order. The first thing to enter is your email address and phone number, then your shipping information. Even if you wish to pickup your order, we now ask that you still provide an address. Once you enter that information press the button labeled "Continue to shipping.
On the next screen you will be asked to select your shipping method. Customers that live within Belize City limits can pick from options "Store pick up in Belize City" and "Belize City delivery". Customer that live outside of city limits and in other districts can use the options " BPMS", "Post Office", "Post Office Express", and "Tropic Air". Once you've selected the option you prefer press the button labeled "Continue to payment".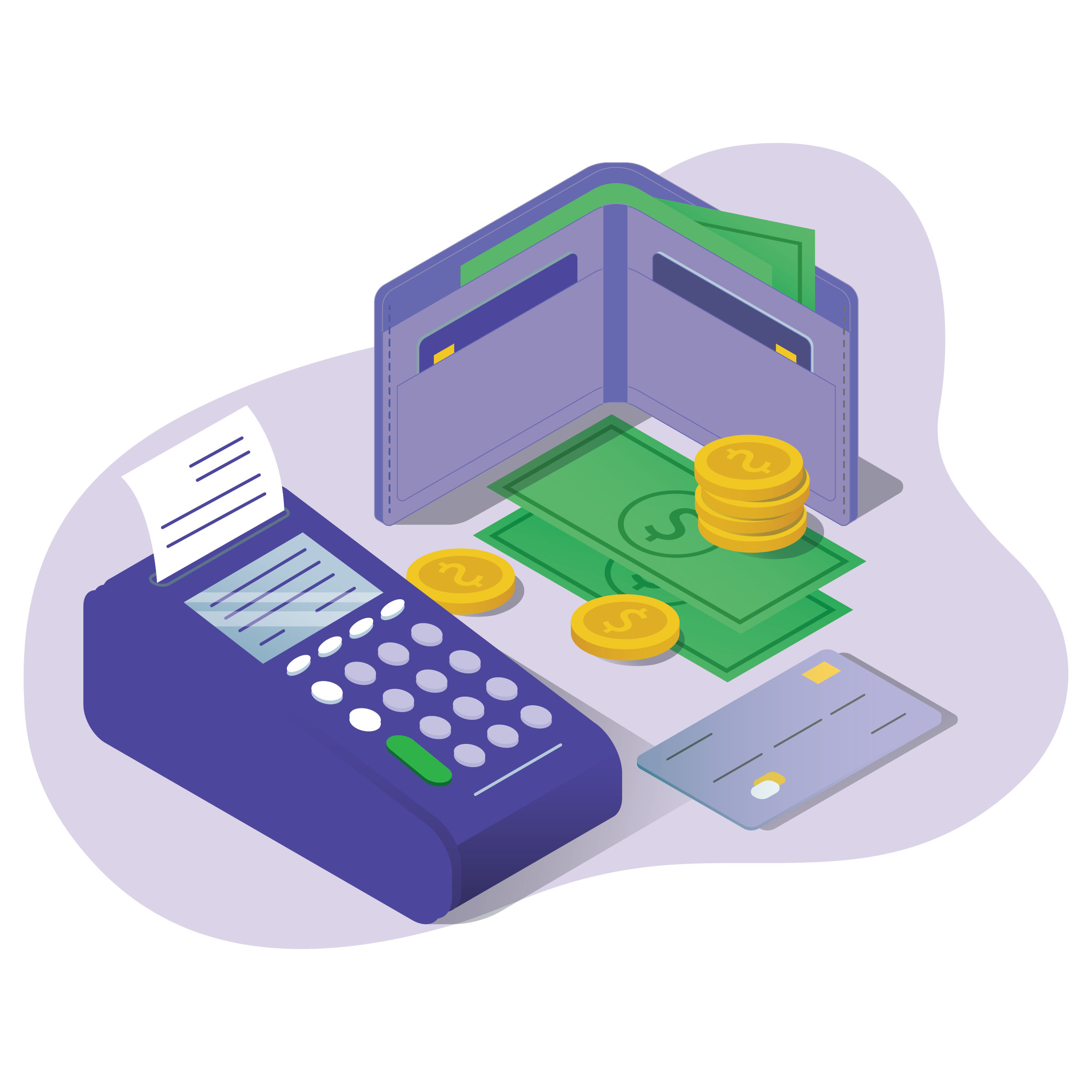 Step 6: The next screen will be to select payment method. Customers within Belize City limits can use options "Pay in store" and "Pay with debit/credit card in person". These customer do not require making payment before their order is confirmed. Customers that live outside of Belize city limits and in other districts can use options "Paypal", "Credit Card", "Bank Deposit", and "Online Banking". These customers do require confirming payment before their orders gets started.
Once you select your payment method press the button labeled "Complete Order". Once you press that button then the order will immediately be sent to us and you will also receive an email or text, depending on how much information you provide.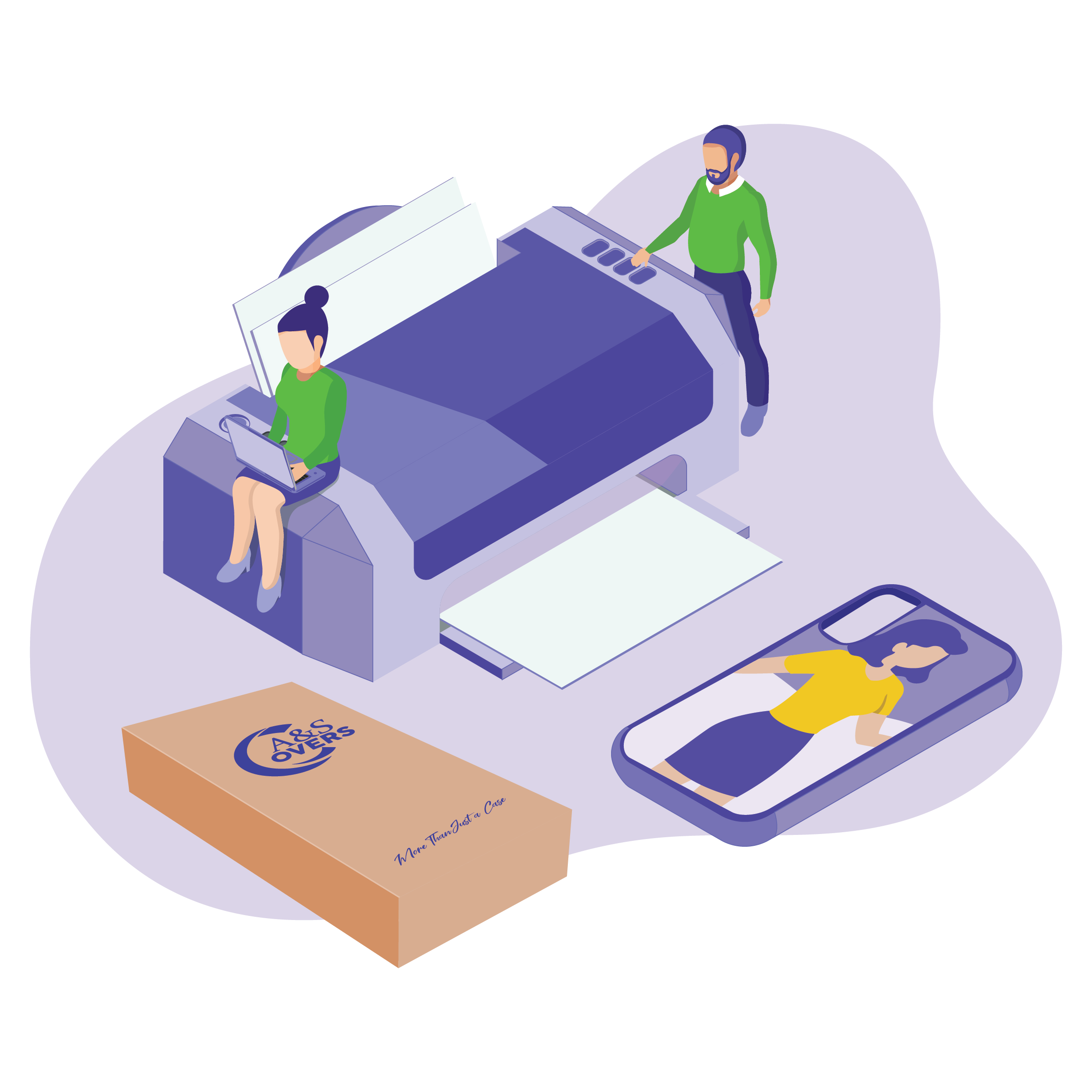 Step 7: Once we receive the order for customer that live within Belize City limits, a sale representative will either call or send an email, depending on how much information you provide us. Since no payment is require for the order to start, the representative will confirm the date that the customer would be able to have payment.
Customer from outside of Belize city will also get a call or email to remind them that their order will get started as soon as we are able to confirm payment. Once the transfer is complete or the deposit made, the customers is responsible to contact us by email or through our social media platforms with a copy of their deposit slip or screenshot of their online transfer.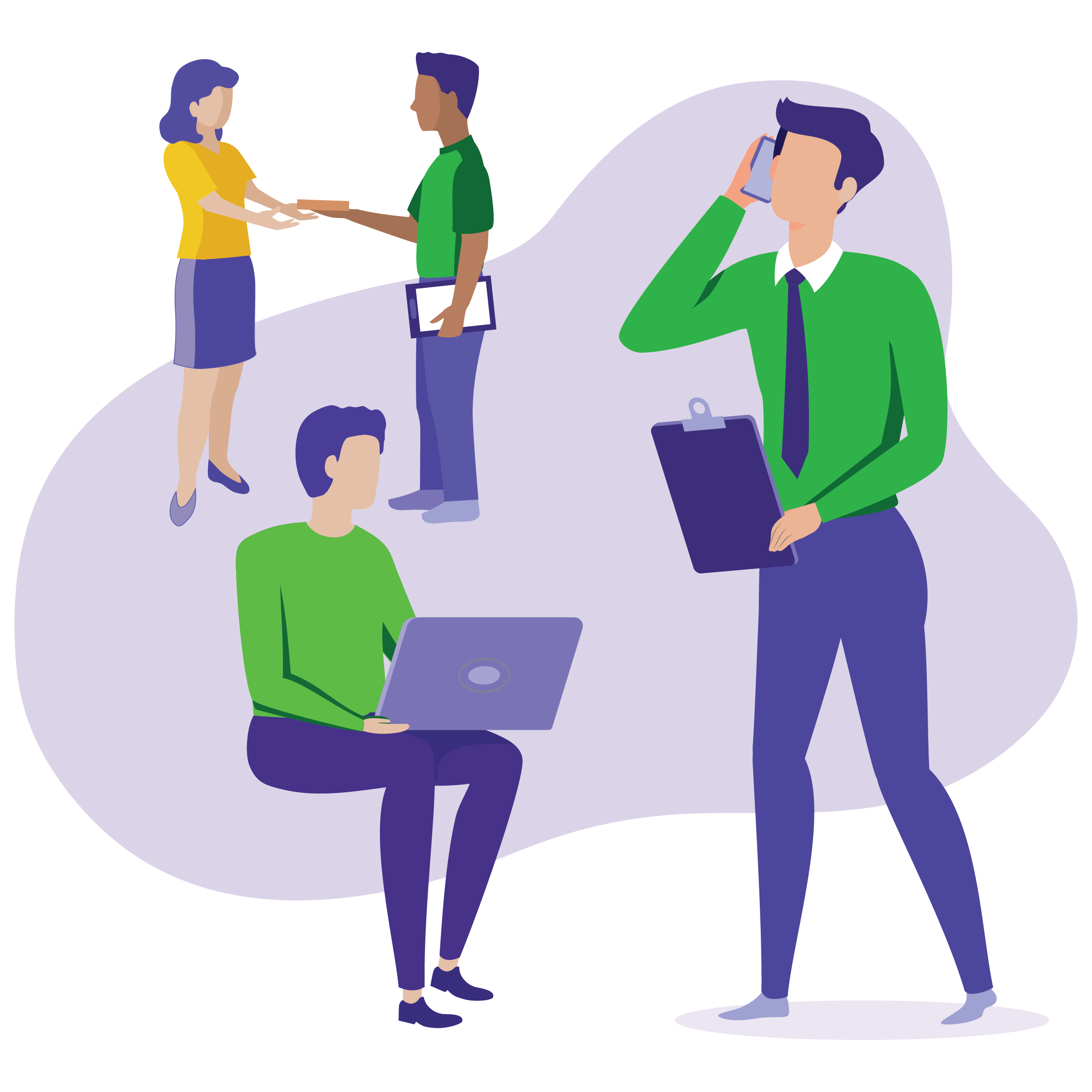 Step 8: Once we confirm your order then our team gets to work. Your order should be completed within 24 hours. Once it is completed they will be either delivered to the address you provided or send to the courier you had previously selected.

Step 9: Don't forget to tell us if you love your case and our service. Even if we didn't meet your expectation we would very much want to hear how we can improve to improve our service.
FREQUENTLY ASKED QUESTIONS
Question: What all items can you print on?
Answer: We use to only print on phone cases but now we're able to print plastic, wood, and metal. This means that we can print on items such as plastic and metal water bottles, coffee mugs, thumblers, pens, jewelry, key-chains, magnets and more.
Question: Where are you guys located?
Answer: Our address is 44 Neal Pen Road in Belize City.
Question: Do you guys have other locations?
Answer: We only have 1 location but we have partners all over the country that sell our Game Triggers. See the full click when you click here.
Question: What are your working hours?
Answer: We are open from 8:30 am to 5:30 pm from Monday to Friday but we try our best to answer our messages beyond those hours.
Question: Do I need to pay before my orders gets made?
Answer: If you live outside of Belize City then yes, you need to pay first. If you're a first time customer from Belize City then yes. Returning customer from Belize City can pay upon delivery or pickup.
Question: Can I order online without a Credit Card?
Answer: Yes, you can order from our website without a Credit Card by selecting one of the other options listed.
Question: How long does it take for my order to be ready?
Answer: Most cases (Grip, Frost, Beauty, Wallet, Slim) take 2-3 days to prepare. The fully transparent cases (Beauty Plus) or cases you provide for us to print on are currently taking a week to prepare. In the event that you need it faster than that we do offer express service. One day express (24 hours) is $10 and same day (Confirm payment in the morning have have the order in the afternoon) is for $15.
Question: I want a custom case but you guys don't don't have my phone. Can you special order?
Answer: If you would want a Grip case for a model that we currently don't have then yes we can special order one for you but it would only be when we are restocking. If you already have a case and would like for us to print on it then we can do so as well.
Question: How can I make payment?
Answer: We have a total of TEN (10) forms of payment for your convenience. The ten forms are Bank Deposit, Online Transfer, Credit Card, Paypal, Western Union, Zitro, Credit or Debit Card swipe on Delivery, Cash on Delivery Credit or Debit Card swipe on pick up and Cash on pickup.
Question: What is your bank account?
Answer: We have TWO (2) bank accounts. Here are the accounts' information -
Atlantic Bank: 100289581
Name: A&S Covers
Online name: Armando Perez T/A A & S Covers
OR
Scotia Bank: 009142179
Name: A & S Covers
Branch: Albert street (91595)
If you would like to deposit to Scotia, it's $1 extrafor Scotia deposit fee.
Question: I live in another district, how can I get my package?
Answer: We can send packages all over the country with either the Post Office, BPMS or Tropic.
Question: Can I pay when you deliver?
Answer: Returning customer that want delivery in Belize City can get their item delivered for $4 more.
Question: Does it cost more to add more pictures?
Answer: There is no limit to amount of images you add to your case and no extra charge is required.
Question: Can I add text to my design?
Answer: Yes, text can be added without any extra fee. Text can be added onto your picture before it is uploaded or you can have us add it.
Question: What are your current promotions?
Answer: All our running promotions are applicable to website orders only. See them here.
Question: I'm ordering online. Why is my picture not fitting?
Answer: For images to cover the entire case then your images must be a rectangle. Square images will only cover a small portion of the item.
Question: I don't want to order on the website. Can you help me?
Answer: If you don't want to use the website to order then you can message us on any of our social media accounts for a Sales Rep to take your order. If you use this option, please keep in mind that more often than not our messages are back up as we always have a lot of messages to answer. Also keep in mind that promotions and discount are only given on orders that come in through the website.
Question: I don't see the item that I want. Can you special order?
Answer: Even if you don't see a product on our website feel free to ask us about special ordering any customizable product for us to special order.
Question: I want to order in bulk. Can I get a discount?
Answer: Yes, we can offer a wholesale price on larger quantities. Send us a message with the amount and item you are interested in for a free quote without commitment.
Question: I want to do a giveaway, would you guys want to sponsor a prize?
Answer: We're always open to do collaborations. Feel free to email us at aandscovers@gmail.com with the details about your ideas for us to review.
Question: I have a store front and want to carry your items. How do I contact you?
Answer: We would love to have more partners. Kindly give us a call at 628-4758 so that we can discuss a partnership.
Question: I won a gift certificate from sponsored by you guys. How can I claim it?
Answer: You can redeem your item through our website or through chat by let us know that you have a gift certificate and sending us a picture of it.